When it comes to residential projects you should know that the real estate market in Pakistan is down nowadays which is what people think but we have noticed that some investors are looking for real estate markets that are offering booking at a lower price
Investing in Residential Apartments: The Theme Park Icon of Bahria Town Karachi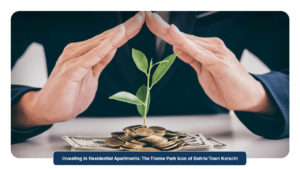 In recent years, the real estate market in Pakistan has witnessed a significant boom, and Bahria Town Karachi has emerged as a shining star in this landscape. One project that stands out amidst this vibrant setting is the "Theme Park Icon." This project is more than just a residential complex; it's a symbol of luxury, modern living, and smart investment.
In this blog, we'll delve into why investing in residential apartments in Bahria Town Karachi, particularly in the Theme Park Icon, is crucial and a strategic move for anyone looking to secure their financial future.
Read more: Why Should You Avoid Facing Hidden Charges When Buying Property In Bahria Town Karachi?
The Bahria Town Karachi Advantage
Bahria Town Karachi has transformed the real estate narrative in Pakistan, offering a blend of modern infrastructure, world-class amenities, and an unparalleled lifestyle. Nestled in the heart of this mega-development, the
Theme Park Icon boasts a prime location that further enhances its investment potential. This meticulously designed project is strategically positioned, with easy access to major highways, commercial centers, educational institutions, and healthcare facilities.
This convenience factor alone makes investing in the Theme Park Icon a decision that aligns with both comfort and growth.
Lifestyle Redefined: Theme Park Icon's Unique Selling Points
Luxurious Living Spaces: The Theme Park Icon offers a range of residential apartments that redefine luxury. These apartments are crafted with contemporary designs, high-quality finishes, and state-of-the-art fixtures, ensuring that residents enjoy an opulent and comfortable lifestyle.
Unmatched Views: Imagine waking up to breathtaking views of lush green landscapes and a mesmerizing theme park. The Theme Park Icon has been thoughtfully designed to provide residents with panoramic vistas, creating an ambiance of tranquility and beauty.
World-Class Amenities: The project's name itself underscores its commitment to offering an iconic lifestyle. Residents will have access to a range of world-class amenities, including fitness centers, swimming pools, spa facilities, and entertainment zones. The presence of a theme park adjacent to the project enhances the overall experience, making it an ideal choice for families.
Secure Environment: One of the key factors that potential investors and residents look for is security. The Theme Park Icon goes above and beyond by providing a secure, gated community with advanced surveillance systems, round-the-clock security personnel, and controlled access points, ensuring peace of mind for all residents.
Investment Potential: Beyond the immediate comforts, investing in the Theme Park Icon presents an exciting financial opportunity. The real estate market in Bahria Town Karachi has consistently shown promising growth; this project is no exception. As demand for luxurious living spaces increases, the value of properties in this area is projected to appreciate, making it a potentially lucrative investment.
Why Invest in Residential Apartments?
Steady Rental Income: Residential apartments in Bahria Town Karachi, especially in projects like the Theme Park Icon, offer a reliable source of rental income. The high demand for quality housing in this area ensures a steady stream of tenants, allowing investors to earn passive income while their property appreciates.
Capital Appreciation: Historically, real estate has proven to be a valuable asset that appreciates over time. By investing in the Theme Park Icon, investors can capitalize on the projected growth in property values, potentially reaping substantial profits in the future.
Diversification: Real estate provides an avenue for diversifying one's investment portfolio. By including residential apartments in a well-rounded investment strategy, individuals can reduce risks associated with market volatility and create a balanced portfolio.
Tangible Asset: Unlike other investment options, real estate offers the advantage of being a tangible asset. Investors can physically see and assess their property, which adds a layer of security to their financial endeavors.
Hedge Against Inflation: Real estate is often considered a hedge against inflation. As the cost of living rises, so do property values and rental rates. This ensures that real estate investments maintain their value and generate favorable returns over time.
Read more: Best Way For Foreigners Invest In Bahria Town Karachi Properties.
Investing in residential apartments in Bahria Town Karachi, particularly in the Theme Park Icon project, is a strategic move with significant benefits. The fusion of luxurious living, unmatched amenities, and a prime location makes the Theme Park Icon an ideal investment opportunity.
Beyond the immediate comfort and convenience, investors can look forward to steady rental income, capital appreciation, and a diversified portfolio.
As the real estate market in Bahria Town Karachi continues to thrive, those who seize the opportunity to invest in the Theme Park Icon are poised to reap both lifestyle rewards and financial gains.
It's not just about buying a property; it's about securing a future that's defined by comfort, luxury, and prosperity. So, take the leap, invest wisely, and be a part of the iconic lifestyle that the Theme Park Icon offers. Your investment journey begins here.