Finding a job in real estate industry in Pakistan can be a challenging task, but with the right approach and resources, it is possible to land a job that meets your goals and expectations.
The real estate market in Pakistan has been growing rapidly in recent years, and there is a high demand for professionals in various roles, including sales agents, property managers, and real estate agents. In this journey, we will provide some tips and resources that can help you find a job in real estate in Pakistan.
Build a Strong Network: Building a strong network is critical in any job search, and it is especially important in the real estate industry.
Attend industry events, join real estate groups on LinkedIn, and reach out to people in the industry to expand your network.
Building a strong network can help you gain valuable insights into the industry, as well as hear about potential job openings before they are publicly advertised.
Enhance Your Skills: The real estate industry is highly competitive, and it is important to have a set of skills that sets you apart from others.
Consider taking courses or attending workshops to enhance your knowledge and skills in areas such as marketing, customer service, and property management.
Read more: Is Bahria Town Karachi 2 Needed For The Revival Of The Real Estate Market?
What must you know regarding the perfect job in real estate Karachi?
When you are looking for the perfect real estate industry job in Karachi then this journey can be hard. However, with the right approach, resources, and perseverance, it is possible to find a job in real estate that meets your goals and expectations.
A strong resume highlighting your relevant experience, education, and skills will make you a more competitive candidate. Utilize online resources such as job search sites and research the real estate industry to find potential employers and connect with recruiters.
Preparing for interviews by researching the company and practicing answering common interview questions can increase your chances of landing a job in real estate in Karachi.
Read more: Prime Time To Invest In California Heights A Real Estate Project In Karachi?
Maintaining yourself is one of the leading things to know about a find a job in real estate is how you present yourself, as we have noticed that if you are dealing with a client you should know about the perfect way to be in front of your clients.
Staying positive is one of the other things that you should consider because the more confident you are with your clients the better the chances for a company that you are looking to find a job in real estate.
What to avoid when getting a job in real estate?
When searching for a job in real estate, it is important to avoid certain mistakes that can negatively impact your chances of success. Being unprepared: Before applying for a job in real estate, research the industry and the specific role you are interested in.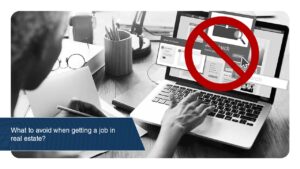 Make sure you understand the requirements and responsibilities of the position and prepare for the interview by researching the company and practicing common interview questions.
Neglecting professional appearance: Your professional appearance speaks volumes about your level of professionalism and attention to detail. Make sure to dress appropriately for the interview and take care of your grooming.