BTK Wholesale Bazaar is a concept that is derived from the concept of growing your business that you were running in Karachi to Bahria Town Karachi. If you think relocating your wholesale bazaar to Bahria Town Karachi is the perfect solution, there are a couple of reasons behind that.
What problems are Bazaars in Karachi facing?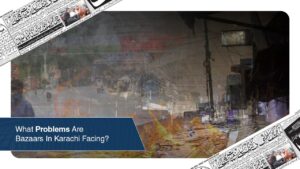 Bazaars in Karachi go through several problems ranging from how people have started to adapt to issues that must be avoided while running a wholesale business.
Constant Electrical Cut-Off Eliminated.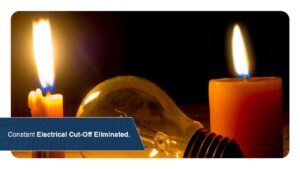 Running a wholesale business is not an easy task, so people look for a location that keeps their minds stressed free. In this situation, we have noticed how people suffer from electrical cuts when running their businesses.
These constant cuts can be avoided when you are handling your wholesale business with extra care but with the assistance of BTK Wholesale Bazaar, you can change and elevate your business by tackling power cuts.
Bumpy Roads Cleansed with Lavish Wide Roads
No matter how many Bazaars you visit in Karachi there is one constant problem that all your loaders would face and that is the bumpy roads that are not well-maintained.
We know that Bazaars often have heavy trucks visiting them every day but due to the bumpy roads that are not maintained loaders start to suffer from problems in their journey.
But compares to these Bazaars you can run your wholesale business with ease when you are booking your spot in BTK Wholesale Bazaar. A project that roofs all your needs as Bahria Town Karachi has lavish wide roads that make you avoid all these jumps.
High-duty Maintained Bazaars Abolishing Your Local Bazaars Mindset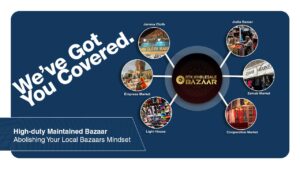 Bazaars that are built in the different locations of Karachi are not well-maintained as there are no authorities that are taking responsibility to handle the cleanliness of the Bazaar.
This is where taking the right step is important when you have to think out of the box to upgrade the wholesale standards of your business.
BTK Wholesale Bazaar is a concept that is derived from Zainab Market, Empress Market, Manzoor Colony, Urdu Bazaar, Jama Cloth, Bolton Market, and Jodia Baazar making it the perfect sport to expand your wholesale business.
Can BTK Wholesale Bazaar revive the wholesale market?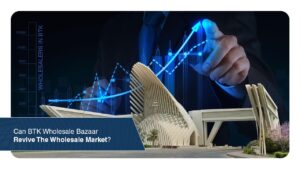 BTK Wholesale Bazaar a commercial conceptual project of California Real Estate & Builders is the need of the time for the people of Karachi.
The concept behind BTK Wholesale Bazaar is Zainab Market, Empress Market, Manzoor Colony, Urdu Bazaar, Jama Cloth, Bolton Market, and Jodia Bazaar but with an updated version of it.
It's time to reimburse the genre of Bazaar by booking your space in a much more modern and much better maintained Bazaar in the vicinity that captures it all.
BTK Wholesale Bazaar is just a path guiding you toward the many facilities of Bahria Town Karachi which can also be called a city of lights within the city of lights.
Running your wholesale business in BTK Wholesale Bazaar will open your mind to a much better genre of Bazaar that the people of Karachi do not know of, with no power cuts, high-duty lifts, well-maintained structure, an upgraded environment, wide roads, and much more.